Free Product Check with GreasePak Fluid Orders
Posted on

10th May 2016

in News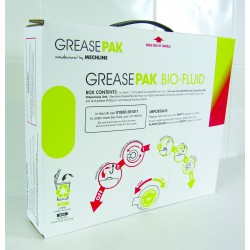 At Cater-Force we champion the environmentally friendly GreasePak Biological Drain Maintenance system supplied by Mechline.  It removes the need for having a bulky and smelly Grease Trap within the Kitchen and at the same time it's award winning Green technology.
GreasePak automatically doses kitchen drains with Eco-Friendly micro-organisms, no harsh chemicals are used as they would be in rival dosing units.  It is the only Bio-remediation system which has been approved by the BBA (British Board of Agrément)  Further details on the dispenser itself can be found at GreasePak Dispenser  If you are based within Yorkshire the installation and commissioning is included within the website price.
Here at Cater-Force for every 2 x Masterboxes of Bio-Fluid purchased one of our engineers will visit site free of charge to ensure that your Greasepak unit is dosing correctly and is running efficiently.  This offer is open to all customers based within Yorkshire and will run until the end of June 2016.
So for peace of mind and a unique service, visit our website, Fluid Packs, and contact our office on 01943 467467 or e-mail sales@cater-force.uk