Why put up with Smelly Grease Traps when you can use the BBA approved GreasePak system?
Posted on

26th May 2017

in News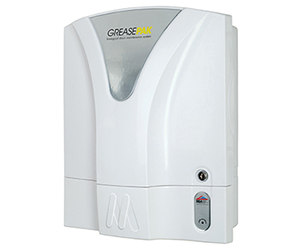 GreasePak is a market leading Biological Drain Maintenance System manufactured in the UK by Mechline.  It keeps your Commercial drains clean and free of blockages using 100% Natural and safe Bio-fluid.  It's a unique, automatic dosing system specifically designed to address the drainage problems found in Commercial kitchens.
Unlike other inferior systems on the market, the GreasePak ensures the Fats, Oil and Grease (FOGs) are unable to reform or solidify. The dispenser itself is wall mounted, stylish and discreet, and requires no water or electrical connections.
It's the only Bioremediation system to be BBA (British Board of Agrement) approved and helps satisfy legislation and building regulations in the UK.  This award winning method of Grease removal utilises the most powerful, multi-strain, bio-fluid of its type.  The system is CE Certified and manufactured to ISO9001-2008 standards.
If your business is based in Yorkshire, Cater-Force are offering a free site survey along with free Installation and Commissioning with every dispenser sale.  For further product details including a GreasePak video explaining the technology please visit the GreasePak Product Page